How to Be Truly Happy
Over the past 3 weeks we have been chatting about the world of metaphysics, and just to let you know, we still have 3 more shows in this particular series. For today though, we are having a little interlude for something very special ... a show completely devoted to - 'How to Be Truly Happy'.
In a world filled to the brim with a constant 'busyness', we often lose sight of the simple joys in life. We forget how to find true happiness. I'm not talking the happiness that comes from filling our lives with more and more material objects - no, I'm talking a deep soul happiness that comes from embracing life with our hearts and being open to the magic moments that lie in wait for us to recognise each and everyday.
I have a beautiful lady joining me this week, who is definitely going to help us smile bigger smiles, expand our hearts, and create enormous vibrations of happiness not only in our own lives, but in hearts throughout the cosmos. Can't wait for you to hear so many fabulous ideas on ... 'How to Be Truly Happy'.
My guest is the beautiful Tanishka: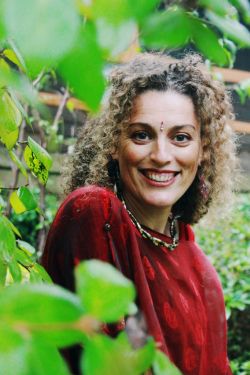 Tanishka is best known as Facebook's, 'Moon Woman' with half a million followers of her daily guidance. She is a bestselling author of four books & teacher of kundalini awakening teachings & practices with 20 years experience.
Her books, oracle decks, meditation CD's & online courses assist people to awaken the inner energy meridians of the sacred feminine & sacred masculine by understanding & empowering the 7 facets of the God & Goddess within which govern the chakras (energy centres)
She is passionate about building strong individuals, relationships & communities through the ancient practice of men & women gathering in sharing circles once a month to nurture the qualities of transparency & accountability. She has trained over 500 women to create monthly sisterhood circles in 32 countries via her online Red Tent facilitator course & has created an equivalent online course for men.
A former stand-up comedienne, she is an entertaining keynote speaker at festivals around the world, who also conducts live events worldwide, including 'Inner Goddess' & rite of passage teacher trainings, retreats, sacred site pilgrimages & speaking tours.
Her latest book, 'The 28 Day Happy Challenge' is a not-for-profit project to support those affected by human trafficking, including the children orphaned in the April 25 Nepal earthquake. For info about this project visit: www.28dayhappychallenge.com
For more info about Tanishka & her work visit: www.starofishtar.com
More at www.geraldineteggelove.com Also available on Itunes.
Return to the Geraldine Teggelove Live Show Page
Link to Article