Girlfriendit Radio with Patty and Lisa
Is God Empowering You? - Cathi Herrod and Sheryl Cooper
Thursday, October 4, 2012
LIVE at 12pm EST on Toginet Radio
Podcast will be available after show time on iTunes or check here at Girlfriendit Radio.
God entered into this world using a woman to hold His secret (Luke 1:26-35), and left the world sharing first with a woman to behold His secret! (Matthew 28:9-10)
Yes, God empowers us women everyday! Many times we are not even aware of this empowerment; we simply don't take the time to ask God where we can participate with Him.
Do you recognize where God is empowering you girlfriend?
How do we parallel with the women in biblical times?
They were courageous . . .
They lived on the edge . . .
They were risk takers . . .
They were world changers . . .
They did the unexpected . . .
They were daredevils . . .
They weren't always perfect . . .
and sometimes they failed . . .
This week Patty and Lisa chat with two women who are embracing God's empowerment and participating with God in their communities.
First, hear from Cathi Herrod, President of Center for Arizona Policy. The Center for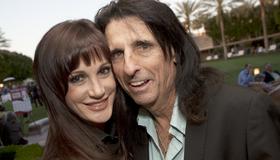 Arizona Policy promotes and defends the foundational values of life, marriage and family and religious liberty. This passionate-empowered woman will inspire you!
Then hear from Sheryl Cooper, the wife of "shock-rocker" Alice Cooper. Together Alice and Sheryl have founded the Solid Rock Non-Profit Organization and they have partnered with Genesis Church to open The Rock at 32nd Street. The grand opening of this full-service community center is coming up October 6, 2012. Alice and Sheryl exclaim that, "Solid Rock's primary goal is to help meet the spiritual, economical, physical, and social needs of teenagers and children in our community." Sheryl's empowered heart will rock you girlfriend!
Listen with us and let us be encouraged to embrace the areas of empowerment! For God has empowered us!
Return to the GirlfriendIT Show Page
Link to Article