Girlfriendit Radio with Patty and Lisa
Is Truth Absolute?
Thursday, April 25, 2013
LIVE at 12pm EST on Toginet Radio
Podcast will be available after show time on iTunes or check here at Girlfriendit Radio.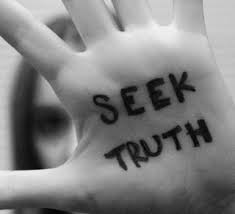 Jesus told him, "I am the way, the truth, and the life. No one can come to the Father except through me." - John 14:6
This weekend a question was posed to me by Caleb, my son's friend. He asked me if I thought one needs to know evil to know good.

I guess the next question would be, "What is evil and what is good?"

Do you ever wonder if anything is absolute anymore?

Do truth and lies exist or is it all "grey" . . . up to each individual to ponder and interpret?

Many of us bend the truth and transform it to fit into our own little boxes.

Some people say if your intentions are good, then your actions are good.

Others say that things that seem perfectly good to one culture, might seem totally evil to another.

You can spin it and you can stretch it, but there is still right from wrong.

Our family was split on the answer to Caleb's question, but that is what makes great conversation. Join us in our dialogue of good and evil, truth and lies on this week's show.

By the way, Truth is absolute!
Return to the GirlfriendIT Show Page
Link to Article