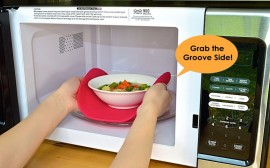 Microwave with your food and grab without burning your fingers! Becomes a trivet and a placemat at your destination! There's no need to find a towel or gloves when the Micro Easy Grab is readily available in the microwave. Not only does the Micro Easy Grab solve a problem but has 8 in 1 incentives: trivet, placemat, potholder, jar opener, utensil rest, splatter guard, food cover etc. It's FDA approved silicone, BPA Free, microwave safe, easy to clean, keeps the turntable clean and stores in the microwave. Micro Easy Grab is great for the home, office, senior living and dorms!
Why Cyndi Lee invented Micro Easy Grab in her own words...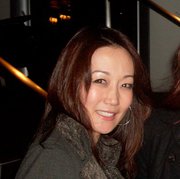 As a kid, I remember heating something in the microwave. Not realizing that the bowl was hot, I went to grab it and OMG! I think we have all grabbed that hot bowl and burnt our fingers at least once in our lifetime.
There are many gadgets in the market to help you avoid such incidents but they are all very frustrating to use.
For example:
1) The classic kitchen towel: Not heat resistant, doesn't have a good grip, gets in the way when trying to place a bowl on the table
and, usually, gets soiled so you have to constantly wash it.
2) Kitchen gloves or silicone mitts: Awkward and huge! It's very difficult to handle a bowl using either of these items.

I've often wondered about how I could solve this problem of being able to safely remove a hot bowl/cup/container from the microwave. Then, one day, voila! The Micro Easy Grab was born! There were many obstacles to overcome and many prototypes but, after numerous variations, I finally had the finished product.
Not only did the Micro Easy Grab prevent one from burning their fingers, it's multifunctional. The Micro Easy Grab is ergonomically designed, keeps your turntable clean, stores in the microwave, edges are tapered for easy handling, doubles as a trivet (sustainable to temperatures of up to 450 degrees Fahrenheit) or a placemat, can be used as a jar opener and is stackable.

Plus, for your convenience, it's dishwasher safe!

The Micro Easy Grab will be a staple kitchen tool and will protect your fingers for years to come.
CLICK HERE to purchase the Micro Easy Grab!
Click Here to listen to our interview with Cyndi Lee LIVE on November 18th at 11:30 AM CST, or download the podcast at your convenience.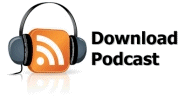 Return to the Innovation Divaz Show Page
Link to Article