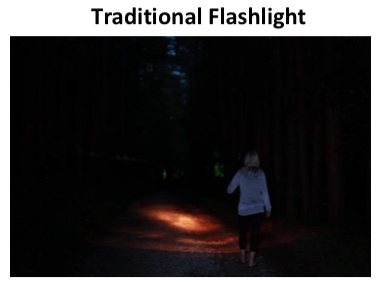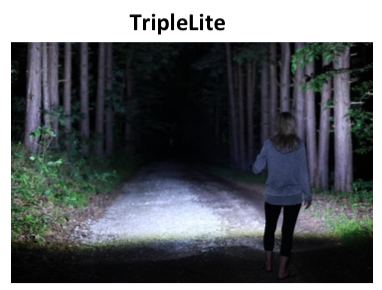 TripleLite LLC
Retail Pricing:
Large TripleLite $24.99 Mini TripleLite $19.99
Available for sale at Triplelite.com, Solutions catalog, and QVC.
Best demonstrated in a dark area by showing a traditional flashlight beam versus
the TripleLite beam of light. It is an awesome demo!
The regular Flashlight has a "tunnel vision" weak beam of light. TripleLite lights up, down and sideways, all around you!
Meet Ronnie Pritchett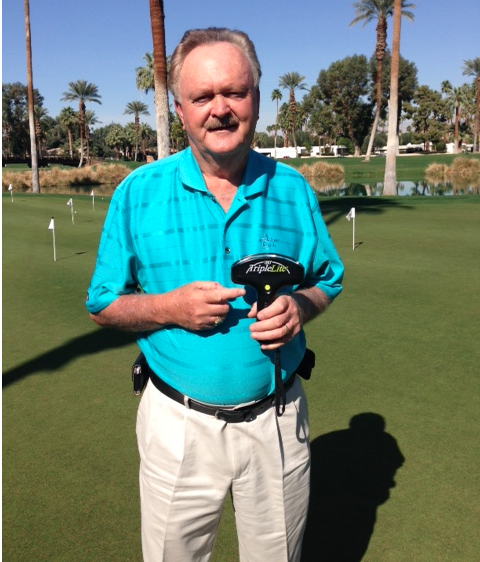 Born: September 4, 1953, Youngstown, Ohio
Education: BBA Marketing and Management, West Georgia College, 1971-1976
Marriage: Married to Nancy Pritchett for 33 years. 2 children; Brandon and Ashley
Career History: Member of the PGA of America since 1976 to present and holds a Life Member status. Golf instructor in Atlanta,Georgia and West Palm Beach, Florida. Operated a private country club on Long Island, New York for 14 years.
In 2006, the Pritchett's moved to California and formed a company called Ashdon Golf. Ronnie currently serves as CEO and designer of a professional, multi-patented line of golf clubs including the Round-about putter. His putter was rated #1 in the United States by Rankmark, the JD Powers of the golf industry.
The "eureka" moment/evening for "TripleLite 180" came in 2013, when Ronnie was walking down dark steps with a MagLite in hand. Something to the left caught his eye, so he turned his flashlight to see what it was. This caused the steps in front of him to become dark and he nearly tripped.
That same evening, he was jogging outdoors and saw an elderly couple walking with a traditional flashlight. Every time the elderly man took a step he would shine the light for himself, and then when his wife took a step he would point the light in front of her to see.
Ronnie suddenly stopped jogging and said to himself, "There has to be a way to create a flashlight that when you turn it on, a person can see in front of them AND to the left and right, at the same time."
After an extensive patent search, he surprisingly discovered that there were no other flashlights like his. He and his team moved full speed ahead with the engineering and manufacturing of the "TripleLite 180". In 2014, patents were issued in the USA and 27 countries around the world.
The creation of the "TripleLite 180" flashlight is quickly making the traditional flashlight with a puny circle of tunnel light, nearly obsolete! Ronnie and his designers are now hard at work incorporating his patented technology into many other useful and life-saving products.
Click Here to visit TripleLite website!
Click Here to listen to our interview with Ronnie Pritchett LIVE on March 9th at 11:00AM CST, or download the podcast at your convenience.

Return to the Innovation Divaz Show Page
Link to Article