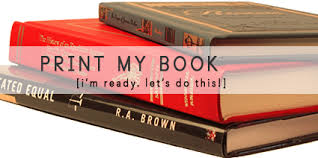 Are all printing options alike? Do you have a clue on what happens once you engage a printer--what happens before the ink goes on? And what happens in the cover printing and binding? Most authors don't think about it all ... and as an author, you should.
Good questions to ask and the answers are within today's show PLUS 21 Answers to questions you should be asking ... for what is best for you and your book.
Today, on Author U-Your Guide to Book Publishing, Judith will deep-dive into the Top 20 plus 1 Questions that every author, every publisher should ask a printer. Think of it as Part II of the session early this month on printing books--this round with Sandy Gould who brings 17 years of printing experience ro produce your best book. Sandy is one of the expert voices from Color House Graphics.
1. Do you provide printing services for self-publishers and authors?
2. What types of files do you accept?
3. What should my designer receive from you before they prepare files for my book?
4. How long will it take to produce my book?
5. What type of proofs should I request?
6. What are overs and unders?
7. What is the difference between offset and digital printing?
8. What does the acronym PPI stand for and why does it matter?
9. What is the difference between natural shade and white paper?
10. What are bleeds on text pages and why do they matter?
11. What is the difference between matte and gloss lamination?
12. What binding styles and trim sizes fit you best?
13. Why does hard cover cost more than soft cover?
14. What should I know about case-bound cover options?
15. What are signature breaks and how would this affect my page count?
16. What would be considered a good page count?
17. What choices do I have for packaging my books?
18. What are your normal shipping procedures and what information do you need from me?
19. What happens to my files after you finish my project?
20. What should I do if I need more books?
21. Will a reprint be significantly less expensive than my first printing?
Get ready for a great show on Authoru U-Your Guide to Book Publishing with Dr. Judith Briles, The Book Shepherd!
Return to the Author U Your Guide to Book Publishing Show Page
Link to Article