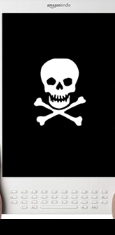 Holy Moley ... has your book walked the the free download plank? Have book pirates taken your book hostage? Do you know ... have you checked? You don't want to miss this WILD episode of AuthorU-Your Guide to Book Publishing. Book publicist, and author Rhonda Rees was a victim of pirates. Hear how she took charge and sunk their ship as she joins Judith Briles for an essential "how to" indiscovering and turning the canon on these steaths of the high pubishing seas.
Today's AuthorU-Your Guide to Book Publishing show is book piracy. You do not want to miss it!
What authors need to know now.

Which form of legal recourse does an author have?

What resources and recourse do authors have and what should they do if theft has occurred?

How much money is stolen each year.

Why pirates offer "free downloads" of your book.

Where can authors turn to immediately for help

and as always, so much more.
Joining Dr. Judith Briles is author Rhonda Rees, who survived a piracy attack and now tells about it. Another great show on AuthorU-Your Guide to Book Publishing.
Return to the Author U Your Guide to Book Publishing Show Page
Link to Article