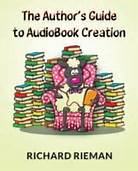 The savvy author knows that eBooks have dropped again in sales; print books have increased and leading the JUMP in sales in AudioBooks--a huge jump! A lot has happened over the last year. This week's show has a leader in the Audiobook field, Richard Rieman, author of The Author's Guide to AudioBook Creation (Richard's book has just won two book awards, including "best" in eBooks. He is an expert in working with the self publishing and indie published author/publisher.
If you want to compete in the "book industry" ... add an audiobook now to your mix. Host Judith Briles is now moving her current books all to audio ... are you?
the Audiobook Revolution (Audible listening up 38%, audiobook sales up 20% worldwide 2 years in a row)

top audiobook genres

whether you should narrate your own book, and how

how to get a great narrator

how to produce your audiobook at the lowest cost

how to promote your audiobook

how to work with Amazon's ACX (Audiobook Creation Exchange) and other publishers

How to give away audiobooks and get PAID to do it.
Richard Rieman, author of "The Author's Guide to AudioBook Creation" is an audiobook self-publishing expert and top Audible narrator. Richard has narrated dozens of titles on Amazon, Audible, iTunes and more. He also produces audiobooks for authors voicing their own audiobooks. Before his audiobook adventures, Richard was a news anchor and reporter at the RKO Radio Networks in NYC, WTOP in Washington DC, and ABC and NBC Radio in Chicago.
Judith Briles is the host of AuthorU-YourGuide to Book Publishing. Join her weekly -- always new, never an encore show!
Return to the Author U Your Guide to Book Publishing Show Page
Link to Article