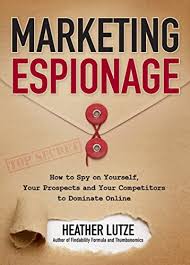 I get it ... you would rather be writing than marketing. It's a common response I hear daily from authors globally--my response: get over it. As an author ... when the pen is down, the final click is made on the manuscript--you need to transition from CWO, the Chief Writing Officer, to the CMO--the Chief Marketing Officer. Living, Breathing, Believing. How about becoming the Chief Dominating Officer of your genre and expertise?
Start with becoming an expert in book marketing espionage. On yourself ... and of course your competitors. Your goal is to become the Chief Dominator Online in your genre!
In publishing your book, do you want to:
become the Chief Dominator in Search Engine Optimization for your book?

learn how to really search for your competitors and take advantage of their weaknesses?

learn how to maximize your keywords with each posting to increase search engine presence?

fill any Google search page for your name, your book, your expertise?
You can ..On this week's show, Judith's guest is Heather Lutze, search engine optimization expert and author of Marketing Espionage, Thumbonomics and The Findability Formula.
Another great show with Dr. Judith Briles, The Book Shepherd on AuthorU-Your Guide to Book Publishing.
Return to the Author U Your Guide to Book Publishing Show Page
Link to Article