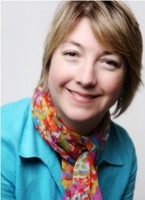 Beth Buelow is known as The Introvert Entrepreneur to a growing tribe of thousands of followers and fans. As a certified professional coach and a skilled interviewer, writer, facilitator and speaker, she's recognized as a thought leader in the area of life and leadership coaching for introverts. Beth is a verified introvert (INFJ, according to Myers-Briggs) who believes introverts can thrive as leaders and entrepreneurs while still being authentic.
She's contributed to blogs and articles in print and online for Psychology Today, Toilet Paper Entrepreneur, Biznik, The Coaching Commons, Sharp Skirts and Upstart Smart, among others. She hosts a popular podcast, The Introvert Entrepreneur, interviewing well-known and emerging introvert entrepreneurs, as well as experts in social media, marketing and sales, personal growth and networking. Beth's individual voice comes out of her experiences as a personal coach, classical musician, arts administrator, nonprofit professional and home-based entrepreneur.
Beth's academic background is in music performance and arts administration (BM, University of Louisville, MM Northwestern University, MA Indiana University). She spent 12 years working for various nonprofits in Wisconsin, Michigan and Washington, with responsibilities that included fundraising, marketing, public relations and grant making. In 2008, she began her coach training at inviteCHANGE (formerly the Academy for Coach Training) and successfully obtained her Certified Professional Coach credential in late 2009. She is a Living Your Vision® Licensed Facilitator and an active member of the Puget Sound Coaches Association and International Coach Federation.
Return to the Paying It Forward Podcast Page