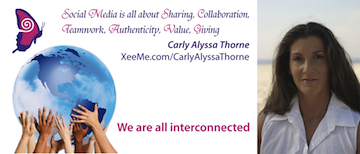 Creator of Transformations Life Center

Creatpr of Transformations Life Coaching

Creator of Transformations Life Productions

Carly has been called "The Transformationlist Muse"

All About Complete Transformations of Mind, Body, Business and Spirit

Educator, Speaker, Wellness and Fitness Expert, Producer, Director, Consultant and Overall Muse
Started out in Organization Management and the Wellness and Health field in 1986 Consulting Businesses, Families, the Entertainment Industry and Individuals on the Mind, Body, Spirit Connection. Carly's Chief Aim is to Bridge the East and the West using various Methodologies: Multi-Sensory, Multi-Media, Psychology, Philosophy, Theologies, NLP, Hypnotherapy, Feng Shui, Energetics, Organization Management, Structure and Implementation, Conscious Hiring and Policies, Effective Authentic Win-Win Communications using Compassionate Passionate Communications, Team Leadership Building using Conscious Business Collaboration, and Co-Creating with others using Creative Conscious Co-Creation, and Overall Wellness and Fitness.
Because Carly's background is so vast and unique she has developed a blue print she created that is an incredible balance of various aspects for the Mind, Body, Business and Spirit and takes People and or projects to a whole new level.
A Process that includes taking Clients from Cocoon to Flight™ Thru Learning, Playing, and Growing™ thru Creative Conscious Co-Creation.™ Carly's Daily motivation for getting up each day is her Passion for Creativity, and inspiring, empowering others to Live full out, open, aware, fun, compassionate, passionate, giving, loving, healthy, abundant life's and taking all of that into all aspects of their home life's and work.
Her daily mottos are: Today is a New Day, and I am ready. Let's Do it, Delegate it or Delete it. Learn, Play, and Grow each and every day. Be open to all feedback, take 100% responsibility, as we are the Actors, Producers and Directors of our own lifes's. At the end of the day how I choose to respond and or react is a choice. No matter what, always move forward fearlessly.
Carly Alyssa Thorne Opened her 1st Conscious Business in 1988 Called Learning, Playing and Growing Inc. back East.

Empowering individuality, thru Arts, Education, Play and Organic Healthy Nutrition and lifestyle. This is where her Passion and Curiosity grew about the the Mind, Body, Spirit Connections working with Children, Hospice and the disabled population of all types and ages. The Spirit of the disabled Empowered her, to also look within and Transform her own conflicts from having grown up with Severe Abuse, illness and undergoing 26 surgeries to date.
Her last Wellness Center was back East in 2002-Celestial Wellness and Fitness Studio. A Boutique Business she created after having lost her Consulting job on Medical Cases for a Fitness Firm she worked for at World Trade Center Tower #2. Having missed the Planes by One Hour, Carly Got Clear on a few things… Life is Precious and I want to Reach out to as Many People as I Possibly Can thru Consulting and Media.
Carly having Signed Numerous NDA's has worked with Top Speakers, Leaders, CEO's, Various Productions and Fortune 500 Companies and is now in the process of Writing Several books one of which is her Autobiography "SOS to CAT from Cocoon to Flight" and Launching Transformations Life Center- Hub Central for the Various Tranformational Businesses.
Having Grow up overseas since the age of 5 in Mexico, Venenzuela, and Brazil, and Traveling extensively and having been under the Public eye and; Scrutiny constantly due to family bussiness, she understands and values others Privacy and thus until now has remained a Private Consultant, The Transformationlist Behind the Curtain… Carly is NOW Ready to be in front of the curtain to Create Massive Global Transformations thru her Consulting and Media Platforms.
Be Careful for what You Wish For, Don't Ask Carly for anything You Truly don't want to materialize in Your Life… Massive Energy, Passion and Fire, and a Huge Heart… Join her on the Journey as Team Work is what makes the Dreams Work.
Return to the Paying It Forward Podcast Page