Sue Z. McGray entered adulthood as a shy, young woman who worked as a checkout clerk in a local grocery store. From humble circumstances, Sue grew personally and professionally to become an independent National Sales Director for a prominent, international, cosmetics company.
Sue's spiritual journey began at the end of a failed marriage. Since then, she has overcome heartache, co-dependency and fear. She shares her struggle and failures, but is consistently reminded of God's Grace. She has been given a second chance and she loves every aspect of her blessed life.
From a shy, insecure, young woman, to highly successful businesswomen, her goal in life has been to make a positive difference in the lives of others. Sue has spent her life encouraging, coaching, training and mentoring thousands of women.
At the end of each day, Sue feels she's had a great day if she has been a positive influence in someone's life and if she has given and received many really good hugs.
Sue's greatest joy is her family. She lives in Nashville, Tennessee with her husband, Duane, who is a southern "Yankee" and loves Nashville as much as she does. They enjoy spending time with their three adult children and five beautiful granddaughters.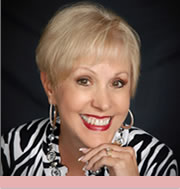 Return to the SecondWind Show Page
Link to Article