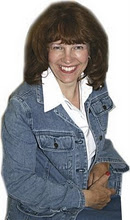 Tess Worrell Founder of www.YourFamilyMattersToUs.com
is a speaker, writer, mediator and communicator of family issues Extraordinaire! But her greatest joy and triumph is in raising her 8...YES EIGHT, children, which is also where she gets her experience and complete compassion for todays Moms and Dads.
Today, Tess will share her knowledge and expertice with us around understanding & setting goals and expectations for our childrens different ages and stages of life.
Parents these days seem to want our kids to stay little forever and then "grow up" at the snap of a finger, but when that doesn't happen, we become frustrated, disappointed, demanding and even angry.
Tess' brilliant outlook and common sense approach will help you to understand where your kids are comming from, why they do the silly and sometimes ridiculous things they do and how you as the parent can step back, breathe and know this all just part of "what my kid is programmed to do right now"...as well as know when to nip it in the bud 'cuz that behavior is just not acceptable!!!
Listen in today from 11-noon EST and if you have a question, comment or suggestion to share with the Parent Nation, call in toll free to: 877-864-4869! We would love to hear from you!
Return to the Stop Raising Einstein Show Page
Link to Article