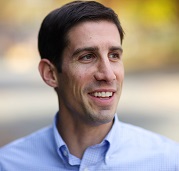 Early childhood is the apprenticeship of being human. The disproportionate influence of these early years lies in the fact that apprenticeship occurs constantly in children's most primary relationships during a period of unparalleled brain growth that has a lifelong impact on a child's character, competence, creativity, health and ability to collaborate.
Graham Scharf is the husband of a developmental pediatrician, and the father of two delightful daughters, ages 4 and 9. While his wife cares for kids with developmental disabilities and brain injuries, Graham is full-time dad to their girls.
Prior to full-time fathering, Graham worked in a team consulting group, and then as a second and third-grade teacher in a failing school in Brooklyn, New York. It was in that school that he first saw the intersecting strands of early childhood parenting, character formation, and the role of stories. Graham made the jump from education to full-time parenting when his wife began her pediatric residency - and he hasn't looked back.
During those precious years with his girls, Graham has been working to help parents of young children. In 2008, he co-founded Tumblon.com, the only web app that provides interactive developmental milestones to parents of young children. In 2013 he published The Apprenticeship of Being Human: Why Early Childhood Parenting Matters to Everyone. Graham conducts parenting workshops and seminars regionally, and speaks nationally on early childhood parenting. He writes on these topics on his blog, and for several publications. Graham also provides consulting services for businesses that seek to support their employees in their roles as parents.
When he isn't reading, writing, coaching or speaking, you can probably find him spending time with his kids - cooking, drawing, hiking, or reading.
Join me every Tuesday at 11am EST on http://toginet.com/shows/stopraisingeinstein
Return to the Stop Raising Einstein Show Page
Link to Article