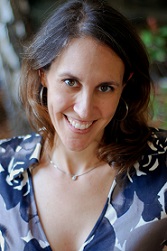 Rachel Sklar is the founder of the Parent Coaching and Education business, ViaParenting, and the creator of the new CD "Rock Your Inner Mama: Guidance for Mindful Parenting."
As a PCI Certified Parent Coach®, Social Worker and Loving Mom, Rachel teaches the art of parenting from the core, which is no easy task amidst the parenting propaganda that riddles her Silicon Valley community. With her support, parents find peace, joy, and harmony in their parenting experience, rather than succumbing to the external pressures of doing it "right."
In her practice, Rachel strategizes with parents toward transformational and sustainable results that honor every family member. Overwhelmed parents walk away with parenting plans that are unique to their family and experience the gift of tuning into their inner voice.
Rachel calls her business ViaParenting because she believes parenting transports and transforms us as human beings. ViaParenting brings mindfulness and forward thinking into plain view for parents who are struggling with discipline issues, sibling rivalry, work-life balance, extreme temperaments and the many other curve balls that life throws parents.
Rachel says, "As challenged as we are, we are equally capable....beyond measure."
Description of CD:
Rock Your Inner Mama: Guidance for Mindful Parenting teaches that there's no wrong way to rear a child and encourages parents of all kinds to let go of self-criticism and guilt. Using specially designed tracks for meditation and advice, this CD helps adults deal with the trials, tribulations and ultimate joys of raising kids.
SPECIAL OFFER FROM RACHEL
Rachel is offering a free 30 minute Parenting Strategy Session by signing up for Instant access to the Rock Your Inner Mama mantras on her website.
Call in with a question or a comment. 877-864-4869 We always welcome your calls!
Join me every Tuesday at 11am EST on http://toginet.com/shows/stopraisingeinstein
Return to the Stop Raising Einstein Show Page
Link to Article