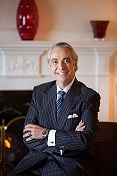 What do you get when you mix business with parenting? Would you ever consider raising your children using business principles? My guest, this week, has done just that. He says it works!
Entrepreneur, Speaker, Radio Show Host and Author of CDO Chief Daddy Officer® - The Business of Fatherhood, Chris Efessiou understands first hand that the dynamics of success are the same whether you're leading a business meeting or tucking your child into bed at night. Through his own personal experiences, Chris - Founder and President of Chris Efessiou and Team - shares his discovery of how the skills critical to becoming a successful business leader can be seamlessly applied to both parenting and personal relationships with equal efficiency. To learn more, visit ChrisEfessiou.com.
Call in with a question or a comment. 877-864-4869 We always welcome your calls!
Join me every Tuesday at 11am EST on http://toginet.com/shows/stopraisingeinstein
Return to the Stop Raising Einstein Show Page
Link to Article