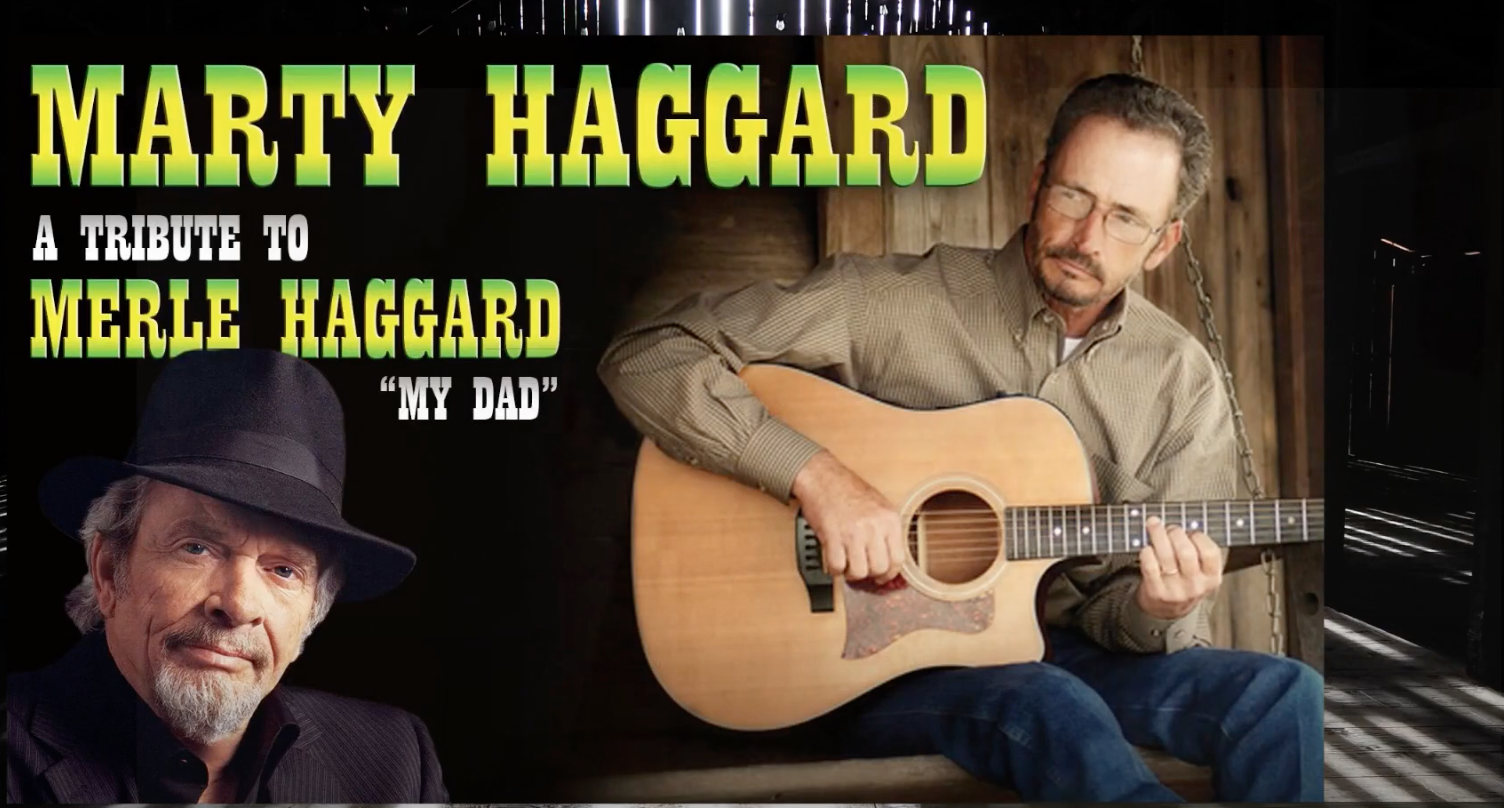 Marty Haggard Shares His Dad's Life
On today's show we were honored to have Mr. Marty Haggard as our guest on "Your Future Is Now". We also were joined by Donna Guinouard, a great friend of the show and a HUGE Merle Haggard Fan!!! Mr. Bill Heinrich was with us and could only listen in due to internet issues. Bill stated he loved listening to the live broadcast. We understand Bill, you are still very special to the show.
Website: https://martyhaggard.com
Shows: https://martyhaggard.com/shows
Podcasts: https://martyhaggard.com/new-podcast-show
Originally, we thought about Marty sharing the stories of four songs and then we were planning to play the songs mentioned on the show. But right before we go live, Marty stated that he believed it would be a much better show for our listeners, if we shift gears and did more of an interview style of show with discussion, questions and comments.
That's exactly what we did and let me humbly say, I am so GLAD Marty made that suggestion. It was an incredible show with a lot of great information and clarification on some misunderstandings about some of Merle's songs.
For example, in doing research it appeared that his Dad Merle Haggard, only received credit for having 40 #1 hits, but this is not accurate. Marty shared how it is closer to 50 #1 Hits and maybe a little more.
The song "Silver Wings" was a B-Side song that was part of the album "Okie from Muskogee", the first live album by Merle Haggard and the Strangers got released in October 1969. Marty stated "Silver Wings" is one of the most requested songs from the audience when he performs live.
To Marty, Merle Haggard was simply his Dad...he never saw his Dad as a super star and Merle did not look at himself as being a 'star'. He went fishing with his Dad, normal everyday things that a Father & Son would do. That is the Merle Haggard he knows, not the Country & Western star that everyone else knows.
When Merle went to work his tool was his guitar and his vocation was to sing the songs he wrote from his heart on stage. As a young boy Marty traveled with his Dad some of the people in his life were Johnny Cash, Willie Nelson, Kris Kristofferson, Waylon Jennings and many others. Marty stated his Dad knew all of them and Marty just thought they were a part of his extended family while growing up. Marty has fond memories of these folks as just being good people, the same people we know as super stars.
Marty always wondered why his dad was so popular to thousands of fans and shared how Marty did not realize the impact his Dad had on a multitude of fans by touching their lives, until he was much older. Merle was never interested in stardom. Merle simply loved to utilize his God given gifts and talents for songwriting and singing.
Marty shared how he grew up 'Dirt Poor'. He was born in a boxcar while his dad was in San Quentin State Prison. When his Dad was released in 1960 Marty was 3 yrs old and Merle had decided to make music his life after seeing Johnny Cash perform when he was in prison.
His Dad went from being a convicted felon going from the jail house to the white house, in 12 years and the whole family was there to watch his Dad perform for the President of the United States. And he met every President of the United States there after. His Dad received two full pardons, one from the President and one from the Governor of California.
Several times Marty stated that his Dad was simply a dad. Merle's mission in life was to write songs and after his death, Charlie Pride stated on stage that Merle Haggard was the greatest songwriter there ever was.
During the interview Marty asked Donna...."Donna are you crying?" "Yes!!" She was reacting to how his Dad's music touched her heart and a multitude of people souls all around the world. In his Tribute to Merle Haggard, My Dad; Marty lives his life singing his Dad's songs and his own touching people lives, connecting them with precious memories as they reflect back and remember a time, a person or an event in their life.
What a thrill it is for him to receive the same kind of response today and that is why Marty still loves to perform and share Merle's life captured in his songs that stirs memories with his audiences.
Marty shared how many musicians complained about having to follow Merle Haggard on stage. Comments like "I can't follow Merle" and "Don't do this to me". Even Johnny Cash said that. Merle had that special commanding stage charisma, when Merle walked out to sing and play his music, his strong and impressive presence was awe inspiring, because that was simply WHO Merle Haggard was. Merle lived the life he loved and he loved the life he lived.
Guest Host Donna Guinouard host of the Radio Show "High ENERGY Entrepreneur Radio Show"
Website: http://donnaguinouard.com
Email: highenergyrightnow@gmail.com
Speakers Pathway Coalition is the 'official' home of the "Six Minute Webinar"...for more information...please go to https://www.SixMinuteWebinar.com
For information on our affiliate program
https://www.sixminutewebinar.com/main-affiliate
Bill Heinrich offeres his FREE Ebook "Clarity Has No Story" For your copy: http://myfreebook.me
"Your Future Is Now" is sponsored by Speakers Pathway Coalition. Training for TEDx Talks, Speakers, Authors, Internet Marketers, Networking, How to Craft Your Talk using StoryTelling. For more information and to receive YOUR FREE COMPLIMENTARY GIFTS ...just go to https://SpeakersPathway.com

Thank YOU for Tuning In!! Please subscribe and Share our show!!!

Have a Blessed Weekend, Jim Grant

iTunes:
https://podcasts.apple.com/us/podcast/your-future-is-now/id1459574690

YouTube: https://www.youtube.com/channel/UCjfyd0kYQUJcVN0YTSztLLw

Podcasts: https://toginet.com/podcasts/yourfutureisnow/?s=yourfutureisnow

Spotify: https://podcasters.spotify.com/podcast/5e16MgDl6IG8ExSfd6eCY4/overview
---
Return to the Your Future is Now Show Page
Link to Article